Who Was L. G. smith?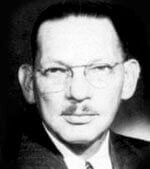 Once considered a "useless island" by the Spaniards who discovered it in 1500, Aruba has been home to many commercial ventures in its short history. These have included gold mining, horse breeding, cultivation of silkworms, tobacco, cotton, peanuts and cottage industries. However, aloe production and oil refining top the list as Aruba's main industries.
Due to the island's favorable geographical position and peaceful political climate, the Lago Oil and Transport Company Ltd. was established in Aruba in 1924. From 1932 on, the refinery was operated as a subsidiary of Standard Oil Company of New Jersey. It is here that we meet Lloyd Gaston Smith, a man associated with Lago since 1927.
General Manager since 1933, the late L. G. Smith became Vice President of Lago on March 2, 1942. He became Lago's first President in 1944. After serving a two-year term, he returned to the States to work at Standard Oil's New York office. In his honor, the government of Aruba inaugurated a bust of L. G. Smith in front of the Cultural Center on September 16, 1961. Also, an Oranjestad thoroughfare was named after him.
The Lago refinery had an enormous impact on Aruba's development. In Lago's early years, thousands of foreign workers hailed from the British and Dutch islands, and many new businesses developed. The English spoken at Lago by the laborers and the American staff became Aruba's second language.
Lago grew into a huge refinery covering 11 square kilometers, with more than 60 chimneys and 300 storage tanks. 340 million gallons of seawater were pumped daily. Hundreds of tankers brought crude oil from Lake Maracaibo in Venezuela to be processed. Largely due to Lago, Aruba's population increased from 8,700 in 1924 to about 60,000 in 1972. There were 8,300 employees in Lago at its peak in 1949. But increased costs and competition, decreased demand, and its inability to compete with modern technology forced the refinery to close down in 1985. it later reopened under new ownership.
Since then, Aruba has become one of the most popular vacation destinations in the world, enjoying one of the highest hotel occupancy rates in the Caribbean.
Download our menu
Contact Us
L. G. Smith Boulevard 82
T: (297) 523 6195
F: (297) 583 4389
E:
info@lgsmiths.com