Our Awards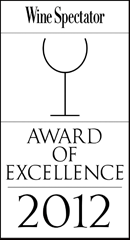 Our comprehensive wine list which was recently nominated by Wine Spectator Award of Excellence includes premium selections from around the globe to superbly compliment each course. And, last but not least, you will be pleasantly surprised by our reasonable prices.
"The Art of Dining Award" is the first award of its kind that recognizes restaurants that offer good service, high quality food and best practices. L.G. Smith's Steak and Chop House is honored to be this prestigious award first recipient.
Monrick E. Croes, Master in Service Management and the creator of "The Art of Dining Award" can be very proud of the professional level and high standards that were achieved on this culinary project.
L.G. Smith's was nominated in four different categories: wine selection, food presentation, dining experience, and the lamb chop category. There were many competitors but L.G. Smith's managed to stand out and win the title for "The Best Dining Experience" and ranked third place in "The Best Wine Selection" category. The awards were received by Chef Michael Gomez and Restaurant Manager Heidi Michiels. L.G. Smith's celebrates this prestigious moment with its dedicated staff and personnel.
L.G. Smith's Steak & Chop House honored for beef expertise

L.G. Smith's Steak & Chop House was recently recognized as the International Independent Restaurant Marketer of the Year by Certified Angus Beef LLC. Angus cattle are known around the world for their lean, tender beef. Angus is also the most popular beef brand in the United States. L.G. Smith's was one of just 35 companies that received top awards. The marketing, sales and integrity awards were presented at the brand's annual conference on September 20-22 in Sunriver, Oregon. L.G. Smith's is proud and honored to be able to celebrate yet another mark of distinction together with its enthusiastic employees.
Contact Us
L. G. Smith Boulevard 82
T: (297) 523 6195
F: (297) 583 4389
E:
info@lgsmiths.com